Nevertheless, I will remember the
covenant
I made with you in the days of your youth, and I will establish it with you as an everlasting
covenant
Ezekiel 16:60 (The Israel Bible™)
וְזָכַרְתִּי אֲנִי אֶת־
בְּרִיתִ
י אוֹתָךְ בִּימֵי נְעוּרָיִךְ וַהֲקִמוֹתִי לָךְ
בְּרִית
עוֹלָם
Hear the verse in Hebrew
v'-za-khar-TEE a-NEE et b'-ree-TEE o-TAKH bee-MAY n'-u-RA-yikh va-ha-kee-mo-TEE LAKH b'-REET o-LAM



On Behalf of the 70 Nations
In explaining the unfolding tragedy of destruction and exile,
Yechezkel
(Ezekiel) portrays Israel as a baby abandoned in the wilderness. Ignored by most, a kind passerby picks her up, protects her, and cares for her. Upon reaching the age of maturity, he marries her. Nevertheless, despite his dedication and affection, the young woman becomes unfaithful. Such has been the relationship between the People of Israel and
Hashem
(God). God saved them from slavery, cared for them and protected them, entered into a
covenant
with them at Mount Sinai and brought them into their land. In return, they betrayed Him and abandoned Him, favoring other gods over their own. Unlike mortal man, God does not change His mind, He promises that He will renew His relationship with them in an "everlasting covenant" and return them to their land.
The Israel Bible - 2 for $100
Israel365 Store Customers Say:

About the Modern Israel 3D Map Larry Graber says, "Excellent visual tool for comparing with Biblical people land features and location names."
16-Month Calendar & Jewish Holiday Guide
Our Latest Olive Tree Donors

Todah Rabbah (thank you) to Robert Mari, Rich Greatti, Gloria Roush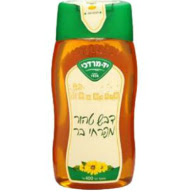 Natural Honey from the Holy Land
Recent Holocaust Campaign Donors

Todah Rabbah (thank you) to David Minnis from the USA, Russell Thomas from the USA, Sharon Garlick from the UK

Copyright © 2018 Israel365, All rights reserved.
Our mailing address is: