From heaven God gazes down upon mankind, to see if there exists a
reflective

person who seeks out God. PSALMS (14:2)


יְ-הוָה מִשָּׁמַיִם הִשְׁקִיף עַל בְּנֵי אָדָם
לִרְאוֹת הֲיֵשׁ
מַשְׂכִּיל

דֹּרֵשׁ אֶת אֱ-לֹהִים תְּהִלִּים יד:ב

a-do-nai mi-sha-ma-yeem hish-keef al b'-nay a-dam lir-ot ha-yaysh mas-keel do-raysh et e-lo-heem
In King David's beautiful words, God looks down from His heavenly abode to find a '
reflective
person' amongst mankind. The Lord is looking for those who challenge the conventional wisdom and defend what is right, even if it is unpopular. A truly 'reflective person' is one who supports Israel when she is attacked, defends her against discrimination and studies the facts to know how to respond to unwarranted criticism leveled against the Jewish State. The city of Hebron was the crucial location in which the Patriarchs sojourned during their revolutionary start of monotheism and formation of the Jewish Nation; it is also a highly contested and controversial city that receives undue attention and criticism from the media and protesters of Israeli sovereignty. The Hebron Fund supports those who live in the city of our forefathers, enabling the Jewish presence there to continue.
Witness the joy and excitement as new mezuzot are affixed to the doorposts of the Cave of the Patriarchs in Hebron.

Is opposition to Israeli construction in sensitive locations a function of the Obama administration or a general sentiment of America's feelings towards Israel's land expansion rights.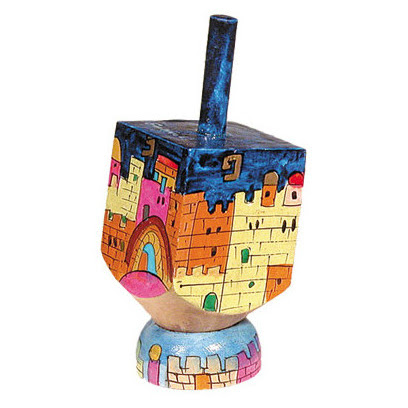 This fun and functional dreidel features beautiful illustrations of Jerusalem's Old City walls, under a blue night sky highlighted with touches of color.


Today's photo features a tranquil Jerusalem at the start of evening; an optimal time for reflection! The Holiday of Hanukkah starts tonight. Do you know when the optimal time to kindle the Hanukkah lights is?
Send me your answer
or post it on
Facebook
.
Today's Jerusalem Scenes and Inspiration is sponsored by Victor Koros from Brooklyn, New York. Toda Raba!

"Thanks For Keeping Us Informed"
It's great to hear from you and make new friends from all over the world. Please send mean email and let me know how you are enjoying Jerusalem365 (don't forget to say where you are from!).

From Ontario Canada, thanks for keeping us informed about news in Israel and Jerusalem. Thanks also for the wonderful photos. It warms my heart to be allowed to be able to see the land of my heart daily. AM YISRAEL CHAI.


God bless Israel and I pray for the peace of Jeruasalem, I pray for the people there, for their safety and for the children. I love Israel and will pray for them daily. God bless you -Faye D.
Blessing from Jerusalem,
Rabbi Tuly Weisz

RabbiTuly@Israel365.com
Copyright © 2014 Jerusalem365, All rights reserved.
Thank You for Signing Up for the Jerusalem365 emails.

Our mailing address is:


Jerusalem365

34 Nahal Ein Gedi Apt #17

Beit Shemesh 9909875

Israel