An
angel of the Lord

is stationed around those who fear Him, and He saved them. PSALMS (34:17)


חֹנֶה

מַלְאַךְ יְ-הֹוָה

סָבִיב לִירֵאָיו וַיְחַלְּצֵם
תהילים לד:יז

kho-ne

ma-lakh a-do-nai

sa-veev li-yi-ray-av va-y'-khal-tzaym
Israel has sent a remarkable delegation of IDF soldiers and medics to save lives in Nepal after its devastating earthquake. Here's what IDF Brig. General Yoel Strick had to say: "We have set out on a mission which symbolizes all that the IDF stands for, and we are greatly proud of this." The soldiers of the IDF are today's "angels of the Lord," renown for setting up field hospitals and rescue work throughout the world during times of natural disasters. This is the true face of Israel and its moral army.
With incredible historic footage of the IDF, this is Israeli heroism over the decades.

Israel has sent a delegation of emergency responders to Nepal following a devastating earthquake that has killed more than 3,700 people and injured countless others.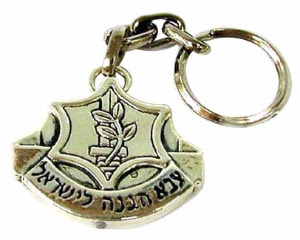 This fantastic keychain features the seal of the IDF in sterling silver. Below the shield is the Hebrew text: "Tzva Hagana L'Yisrael," the Hebrew words for Israeli Defense Force.

Israeli soldiers and medics in Nepal use teamwork to set up a fully equipped field hospital. At the end of the mission, the IDF will leave all of their sophisticated, new medical equipment behind to benefit the people of Nepal.

Yesterday's photo by Boruch Len featured the Bania Springs in the Golan Heights, one of Israel's wonders in the north. The spring emerges at the foot of Mount Hermon and serves as a main tributary into the Jordan River.
Today's Scenes and Inspiration is sponsored by Stacey Phillips from Georgetown, Texas. Toda Raba!

"I Have Learned So Much"
It's great to hear from so many of you - stay in touch and let us know where in the world you are enjoying Israel365!


I love Israel365 so much. Joseph M.

I have always loved Israel even though I really knew very little about it. In my mind I saw it as a desert until I started hearing about it from Pastor Hagge and Pat Robertson. I have been getting Israel365 for over a year now and I have learned so much and I really think it is a beautiful land. I live in Texarkana, TX, USA and I worry about how this country seems to be turning its head away from Israel. May God help us! I will continue reading Israel365 and I will keep Israel in my prayers. Martha S.
Shalom,
Rabbi Tuly Weisz
RabbiTuly@Israel365.com
Copyright © 2015 Israel365, All rights reserved.
You are receiving this email because you signed up for daily Israel Scenes and Inspiration on our website,www.israel365.com.

Our mailing address is:


Israel365

34 Nahal Ein Gedi Apt #17

Beit Shemesh 9909875

Israel